November 2022
Four members of our team at Sussex Premier Health have been celebrating working at the hospital for 25 years.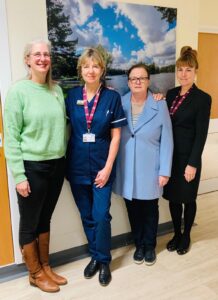 Liz, Pauline, Philomena and Catherine all started working at the hospital 25 years ago when it was still a building site.
Amanda Rogers, Divisional Director of Operations for Private Health, said: "We are incredibly proud to have members of our team who have been here since the hospital first opened its doors.
"I would like to congratulate Pauline, Liz, Philomena and Catherine for their continuous hard work and commitment over the last 25 years. There have been a number of changes to the hospital and they have been invaluable members of the Bupa, Spire and Sussex Premier Health team.
"We are so grateful for their dedication and service and we are really proud that they are part of our team."