This Nurses' Day, 12 May 2023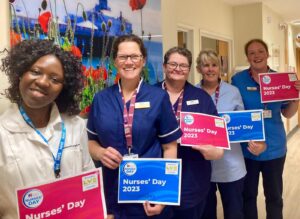 The International Council of Nurses (ICN) announced the theme for International Nurses Day (IND) in January 2023:
Our Nurses. Our Future.
The Our Nurses. Our Future campaign will shine the light on nurses and on a brighter future, moving nurses from invisible to invaluable in the eyes of policy makers, the public, and all those who make decisions affecting the delivery and financing of health care.
As well as learning lessons to support nurses, the campaign will also look at how we must strengthen our health systems to address growing global health demands. It will capture key actions that ICN believes are essential to address both the profession and health systems and which are, of course, mutually beneficial and reinforcing.
Together our future depends on every nurse, every voice, to not only be on the front lines of care, but also be on the front lines of change.
Why is May 12 international Nurses Day?
on May 12, nurses around the world will celebrate International Nurses Day to mark the anniversary of the birth of Florence Nightingale, the woman who is recognised as the founder of modern nursing.
The British nurse, statistician, and social reformer, who lived from 1820 to 1910, is best known for caring for thousands of wounded and sick British troops in Turkey during the Crimean War.
The profession has, of course, changed greatly since Nightingale's time.  International Nurses Day assumes great significance in times such as these when we are battling the COVID-19 pandemic.  Nurses are the backbone of any hospital or clinic, continuously providing high-quality care, often working without a break.
According to the World Health Organisation (WHO) website, the COVID-19 pandemic is a stark reminder of the vital role nurse's play.  Without nurses and other health workers, we will not win the battle against outbreaks, we will not achieve the sustainable development goals or universal health coverage.
To find out more about the services we offer at Sussex Premier Health, please have a look at our current treatments and services.