12-18 June 2023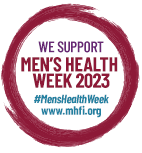 Men's Health Week 12-18 June 2023
National Men's Health Week is observed each year leading up to Father's Day. This week is a reminder for men to take steps to be healthier, but they don't have to do it alone!  Whether it's your husband, partner, dad, brother, son, or friend you can help support the health and safety of the men in your life.
This year the focus of Men's Health Week 2023 is Men's Health and the Internet.
MEN'S HEALTH AND THE INTERNET
If you were born after 2007, the SmartPhone will be a familiar sight.  Launched in 2007, this high-performance computer in your pocket is an everyday necessity, but what are the implications for men's health?
There are some health benefits to being able to access health information or deliver and receive health services online but what are the downsides?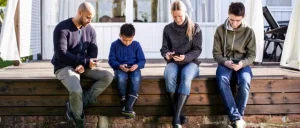 Is the Smartphone just a dopamine-delivery device?
Dopamine is one of the key chemical messengers in your brain. It creates feelings of pleasure and reward and plays a role in concentration, memory and what we find interesting. In short, dopamine makes us feel good and we like a hit of it from time to time!
Addiction to anything depends on brain chemicals, and dopamine is usually the neurotransmitter responsible.  Dopamine is a neurochemical messenger and carries signals that are responsible for reward-seeking.  The neuroplastic change from the process is what causes the addiction to happen. Every time a notification comes from the phone, the brain releases dopamine.
The more this happens, your brain releases dopamine, even before the phone sends its notification! The prior release of this dopamine creates the need to check your phone for the same brain response.  With time, you will be spending more time on your SmartPhone and not on essential activities.  Recent studies have also shown that the effect of computers on human behaviour showed a connection between anxiety symptoms and problematic smartphone use.
During the study, a questionnaire was conducted among 143 women and 165 men. The questionnaire sought the relationship between the mental health of the individuals and their cell phone use.
The majority of those who scored high on the fear of missing out, tend to overuse their phones. Similarly, these individuals score high on anxiety and depression scales. That is because excessive use of smartphones interferes with social activities and therefore increases the following issues:
FOMO – fear of missing out
Reduced attention and productivity
Depression
Contributes to relationship stress
Chasing Dopamine
Sleep disturbances
Anxiety
During this Men's Health Week take some time to see if you recognise any of the common issues that are associated with too much internet use.  Do you need to minimise or reduce your current internet exposure? Are you suffering from one of the symptoms above?  If so, why not try one of the following solutions to help reduce the risks:
Limit when and where you use social media – set restrictions on your phone usage.
Have 'detox' periods – take annual leave from your mobile phone!
Approach social media mindfully – if you look at Twitter first thing in the morning, think about whether it's to get informed about breaking news you'll have to deal with – or if it's a mindless habit that serves as an escape from facing the day ahead. Do you notice that you get a craving to look at Instagram whenever you're confronted with a challenging task at work?
Be brave and brutally honest with yourself. Each time you reach for your phone (or computer) to check social media, answer the hard question: Why am I doing this now? Decide whether that's what you want your life to be about.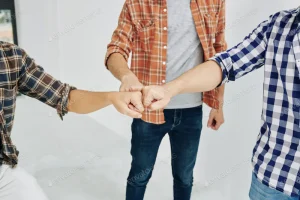 NATIONAL MEN'S HEALTH WEEK ACTIVITIES
Make an appointment

Why not use Men's Health Week to make an appointment you've been putting off?  Persistent knee or hip problems? An elbow injury that you just can't shake off.  Feel like your digestion has been off or maybe it's just time for you to schedule a test? Use this Men's Health Week to make that call and get that appointment in the calendar.

Head to the gym

Use Men's Health Week to get yourself moving! Go the gym, take a long walk, swim some lengths, or take a bike ride. Your body will thank you, and just maybe it'll be the start of a weekly ritual.

Wear a blue ribbon

The blue ribbon is the symbol for Men's Health, and wearing one this week will show your commitment to the cause. It also does double duty as a conversation starter, helping you spread the good news about Men's Health Week to anyone curious enough to ask!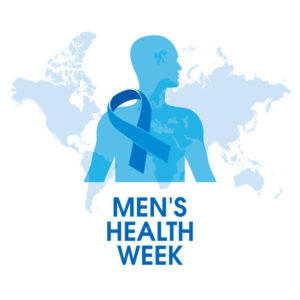 To find out more about the services we offer at Sussex Premier Health, please have a look at our current treatments and services.