Having just celebrated our first anniversary as Sussex Premier Health, Kate Mannion reflects on what its like working at Sussex Premier Health.
Sussex Premier Health, now a private division of East Sussex Healthcare NHS Trust offers inpatient and outpatient services for a wide range of specialities, including orthopaedics, general surgery and ophthalmology. With its own imaging and physiotherapy departments, it offers patients a choice for local private healthcare.
Having this private division puts the trust in the relatively unique position of having dedicated private facilities under the umbrella of an NHS organisation – without using NHS resources. Any profits generated are reinvested back into the local NHS.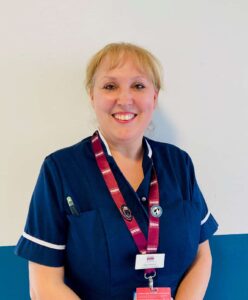 To mark the anniversary, Kate Mannion, Outpatients Manager at Sussex Premier Health says
"Working at Sussex Premier Health is lovely," Kate says. "It's such a nice environment to work in and all my colleagues are so friendly and supportive. I feel like I'm able to give time to my patients and ensure a great patient experience."
Being a division of the trust means Sussex Premier Health are part of the wider trust family and can support the trust by offering, for example, un-utilised theatre lists to help shorten waiting times for surgical procedures.
"It is nice to be a part of the NHS," continues Kate. "It feels right to be able to assist them, especially after COVID. By taking patients at Sussex Premier Health we're helping to clear the backlog left from the pandemic."
Part of Kate's role sees her working on and implementing innovation within her department.
"We have access to so much training and there are really excellent facilities available such as the equipment library," Kate explains. "There are development opportunities for both Sussex Premier Health staff like me and trust staff from the NHS side who may want to experience working in a private setting.
"Over the last year we have expanded the services available in our outpatient department and we're trying to grow our capabilities further.
As a part of the trust, Sussex Premier Health are also able to advertise bank shifts on Healthroster, the NHS's employee scheduling software.
"I would really recommend working at Sussex Premier Health," says Kate. "I get to spend time with my patients and ensure they have a good outcome. I also find supporting the consultants with their private practice interesting. We get some lovely feedback from our patients and it makes me feel proud to know I've done a good job."